Chefs
Founding Chef
As Chef Laurent Manrique has learned, combining simplicity with challenge walks a tightrope between passion for one's craft and a desire to constantly seek new opportunities. Currently, Laurent commutes between San Francisco and New York to oversee concepts in each location. Café de la Presse, a renowned Parisian-inspired bistro owned by Laurent, in addition to Blanc et Rouge and Rouge et Blanc, two stylish wine bars in downtown San Francisco, enjoy distinction among the city's most popular dining and entertainment destinations. Laurent's New York project, Millésime, an upscale seafood brasserie in the historic Carlton hotel on Madison Avenue, opened to fabulous reviews in November 2010 and was named one of New York's Best New Restaurants 2011 by Esquire magazine. Also in 2011, in Paris, Laurent was appointed to the class of Master Chefs admitted to the prestigious Association des Maîtres Cuisiniers de France this spring. Maître Cuisinier de France ("Master Chef of France") is the most envied title that chefs aspire to have; but not everyone can become a Maître Cuisinier. Most recently, Laurent opened Aquitaine, a wine bistro, in San Francisco June 2013.
A16, Rocky Maselli
Executive Chef
A lifelong love of Southern Italian cuisine and expertise formed over 20 years in the kitchen led Rocky Maselli to A16 Rockridge in Oakland, CA. Prior to opening the restaurant Maselli embarked on a culinary field trip to Naples to earn his pizzaiolo certification from the Associazione Vera Pizza Napoletana and to garner inspiration for coastal dishes he could translate stateside. The Bay Area native returned to the East Bay to helm the A16 Rockridge kitchen after cooking for the past 15 years in restaurants throughout Oregon's Willamette Valley, where he earned critical acclaim for his modern Italian cuisine. He earned his degree in hotel and restaurant management from City College of San Francisco. Maselli lives with his wife, Leah Pearl, and their twin daughters, Stella and Scarlett, who just turned 15.

Executive Chef
A native of Switzerland, Philippe Striffeler began his culinary career by working with acclaimed chefs in both France and Switzerland. Before becoming the Executive Chef of Anzu Restaurant , he worked with Marriott's top properties in Asia, Europe, and Saudi Arabia. During the World Culinary Championship in Taiwan, Striffeler received the bronze medal as part of the American team in 2007 and the silver medal as the captain of the American team in 2009. The Asian influence in his food comes from the vibrant and refreshing flavors of Thailand. When he's not in the kitchen, he enjoys playing golf, hiking, and fishing.
Executive Chef
James LaLonde has been cooking up delicious meals for the past decade working at places in San Francisco like Salt House, Slow Club, Maverick, and Pizzeria Delfina. Raised in North Dakota he dreamed big and moved to the Bay Area to follow his passion for cuisine and skateboarding. LaLonde is now enjoying his dream life, cooking at Bocadillos, and in his free time going on bike rides around the Bay, soaking up all the beautiful nature that surrounds the area. Most of his tapa recipes were inspired by his time traveling around Spain.  He said that trip to Spain really "impacted his appreciation and understanding of the cuisine,"  that he is a master of now!
LaLonde really gets to test out his expertise at Bocadillos which serves breakfast, lunch, dinner five days a week and just dinner on the Saturday, everyday a new menu.
Bio coming soon.
Executive Chef
Café de la Presse Executive Chef Patrick Albert's commitment to creating traditional but innovative French fare infuses this Parisian-inspired café with authenticity. "It is always busy," he says proudly. "You can meet a lot of different people enjoying an espresso or a beef bourguignon, sipping a Ricard or having cassoulet." As the man behind the menu, Chef Albert's comments well support his culinary savoir faire. Following stints in brasseries throughout Paris, Chef Albert's position as Chef de Cuisine at the consul of Savoie in Paris stimulated him to bring a touch of France to the United States. His subsequent move to San Francisco brought him together with Chef Bruno Chemel at the Milano Hotel and then with Chef Sylvain Portay at the Ritz-Carlton Dining Room. At Café de la Presse, Chef Albert continues to bring his guests a classic, creative dining experience.
Chez TJ

, Jarad Gallagher
Executive Chef
As a Sous Chef at nineteen and Executive Chef at twenty-one, Chef Gallagher refined his natural skills at cooking and developed business savvy. Having a strong passion for French cooking, he took intensive training classes at Le Cordon Bleu in Paris and London. This lead to obtaining a stage at the acclaimed Bras restaurant in Laguiole, France. Inspired by the French's traditional approach to food and influenced by Chef Michele Bras contemporary vision, Jarad returned to the US with a fresh outlook on the connection between food and people.  For this young and driven Chef, California was the food haven and San Francisco was where Earth and Ocean met Chef and Table. Working at Michelin starred restaurants including Michael Mina, One Market and Plumed Horse, Jarad obtained the skills and knowledge to drive the stoves at Chez TJ.
Executive Chef
As a student at Cambridge School of the Culinary Arts in Boston, Bazirgan was quickly recognized for his talent and drive. Chef Barbara Lynch, winner of "Top 10 Best New Chefs" in Boston Magazine, plucked him from the ranks, and gave him his first job out of school at the prestigious Galleria Italiana. Their mentorship and friendship bloomed, even as Bazirgan moved on to be a line cook with Chef Todd English at Olives Restaurant in Charlestown. In 1998, Bazirgan became Lynch's Chef de Cuisine at No. 9 Park, where he helped her win the 2003 James Beard Award for "Best Chef Northeast." In November 2010, he took over as Executive Chef at Fifth Floor Restaurant, and is currently offering his menu which debuted in January of 2011.
Five, Stephane Tonnelier
Executive Chef
Tonnelier, who has Parisian roots, was most recently executive sous-chef at Boulevard Restaurant in San Francisco. He has worked as a saucier at the world-renowned Hotel Georges V in Paris, and as a sous chef under Michelin-star chef Denis Schneider. Berkeleyside Nosh caught up with him as he got settled into his new post.
My cooking style is an integration of the best of French and Californian cuisine. I have spent the last 26 years of my life cooking, the first half in France and the last half in California. I have been privileged to work with, and learn from, great chefs in two different worlds. I will say that French Californian is totally my inspiration and it gives me the immense pleasure of being able to mix flavors from different continents on the same plate. Some of my favorite chefs who have inspired me are Guy Savoy, Michel Roux and the chef who taught me when I was an apprentice, Philippe Delacourcelle. I also consider Nancy Oakes (from Boulevard and Prospect) a mentor.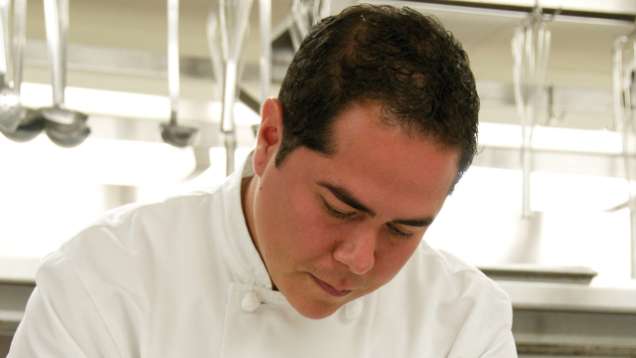 Executive Chef
Chris Aguirre has deep roots in the restaurant industry. Aguirre's grandmother ran a steakhouse in Texas during the Great Depression – along with a speakeasy – so it could be said he was born for the culinary world. Aguirre found himself in professional kitchens at the age of 15 and soon realized that cooking was his true passion. After graduating from the Art Institute of California – Los Angeles, Aguirre worked at a variety of Southern California restaurants, including the St. Regis Hotel, before moving to Texas. There, he worked closely with Jean-Georges Vongerichten at Bank – a formative experience in his culinary career. "Working with Jean-Georges greatly influenced my style of cooking. I believe in sourcing the best ingredients you can, and from there, just keeping it simple – allowing the true natural flavours to shine through," Aguirre says.
Gather

,
Charis Wahl
Executive Chef
Bio coming soon.
Madera

, Peter Rudolph
Executive Chef
Chef Rudolph comes to Madera following two years as Executive Chef at famed Campton Place in San Francisco, where he was named one of StarChef.com's Rising Star Chefs in San Francisco.  Chef Rudolph became interested in cooking while growing up in Martinez, an East Bay town near San Francisco, where he was surrounded by fresh produce that grew in his grandparents' garden. Spending time in his grandmother's kitchen eventually led him to the California Culinary Academy in San Francisco, where he graduated in 1995. Shortly thereafter, he began his culinary career as a pastry chef at San Francisco's Brasserie Savoy.  At Madera, Chef Rudolph says he is coming back to cooking the cuisine he is most comfortable with – refined yet approachable food that honors the many culinary traditions of the Western United States.
Piperade, Gerald Hirigoyen
Chef/Owner
A native of the Basque region of France, Chef Hirigoyen had already begun working with local pastry chefs by the age of 13. He moved to Paris three years later for a traditional apprenticeship with Master Patissiers Jean Millet and Dennis Ruffel. Hirigoyen immigrated to the United States in 1980 and opened Fringale in 1991. He was named one of Food & Wine's "Best New Chefs in America" in 1994 and San Francisco Magazine's "Chef of the Year" in 1995. In 1996, Hirigoyen opened his second restaurant, Pastis (now Piperade), which won plaudits from Esquire as one of the year's best new restaurants. His book, The Basque Kitchen, won the Versailles Award for Best Regional Cookbook.
Executive Chef/Owner
A native of Long Island, Peter Armellino began cooking professionally in New York when he was 17 years old. He opened the Park Avenue Cafe in 1992 and later worked at New York City's Gotham Bar & Grill and Gramercy Tavern. Armellino came to San Francisco in 1999 and soon began work as sous-chef at Jardinière with renowned chefs Douglas Keene and Traci Des Jardins, who he also worked with on the popular TV show "Iron Chef" in 2005. Armellino went on to work as chef de cuisine at the Village Pub, Campton Place, and Aqua.  In early 2007, Armellino became the executive chef at Plumed Horse, which presents elegant, modern California cuisine and emphasizes fresh, seasonal and sustainably-produced ingredients.
Executive Chef
A native of New England, Beriau was inspired to get behind the stoves by his father, Chef Wilfred Beriau, Department Chair of the Culinary Arts Program at Southern Maine Technical College, and recipient of the American Culinary Federation, Inc., (ACF) Chef Educator of the Year award. Learning from and looking up to his father, Beriau always dreamed of being a chef and never had any other career ambition. While receiving an Associates Degree in Culinary Arts from Southern Maine Community College, Beriau worked as a cook at Portland Marriott at Sable Oaks before becoming a Kitchen Manager at Falmouth Sea Grill, both in Portland, ME. Beriau then enhanced his culinary training working alongside some of the region's most renowned chefs including Rob Evans, Sam Hayward and Al Hines and carrying the Sous Chef role in the area's many top restaurants before becoming Chef de Cuisine in 2002 at the Harraseeket Inn, located in Freeport, ME. In this role, Beriau oversaw the fine dining restaurant MDR in the AAA Four Diamond inn, working with Maine Organic Farmers and Gardeners Association-certified farmers to produce the monthly-changing seasonal menus. 
Owner/Chef
Loretta Keller arrived in San Francisco in 1985 after traveling extensively throughout France and Italy and then cooking for three years in New Orleans restaurants. After working with Jeremiah Tower for several years at Stars and Stars Café, Loretta opened Bizou in 1993 earning her status as one of San Francisco's preeminent female chefs. In 2005, she transformed the space and the menu into COCO5OO, which has become an anchor in the dynamic South of Market district and a regular fixture in the San Francisco Chronicle's "Top 100" restaurants. Ms. Keller established a new standard for museum dining in San Francisco with the launch of the Academy Café and the Moss Room Restaurant in 2008 at the California Academy of Sciences. She recently opened SEAGLASS Restaurant and seismic joint cafe in the new Exploratorium on pier 15, further changing the way we eat at museums in the bay area. Loretta is known for her use of high-quality, small production ingredients in menus heavily influenced by the flavors of southern Europe and the Mediterranean.
Executive Chef
Kolin Vazzoler grew up in North Vancouver, British Columbia, where his Italian grandfather made wine and grappa in the cellar and the family devoted much time to their garden where vegetables thrived year-round in the mild, maritime climate. Putting together a meal was always about making the most of what was in season."My family cooked Italian food that was rustic and casual," Kolin says, "but we always used fresh ingredients and that made all the difference in the quality of the dishes. That experience I had growing up certainly lends itself to what is going on in California today."In 2012, Kolin took his first winery position when he joined SIMI Winery as executive chef. Perhaps no winery could be more appropriate for someone with his background. "My father came over from Italy," Kolin says, "the same as the two Simi brothers who started the winery. And I'm second-generation Italian—just as winery matriarch Isabelle Simi was."
Spruce, John Madriaga
Chef de Cuisine
John Madriaga's passion for cooking began at a very young age. Helping his mother prepare family meals, he quickly discovered food's power to both unite and inspire. After graduating from San Francisco's California Culinary Academy, Madriaga took a position as a line cook at Woodside's Michelin-starred The Village Pub, where he remained for two years, honing his skills under the direction of executive chef Mark Sullivan. In 2008, Madriaga left The Village Pub to work with chef David Kinch at Los Gatos' Manresa. There, he garnered a great appreciation for vegetable-driven cooking and developed a steadfast adherence to seasonal and local ingredients. After leaving Manresa in 2009, Madriaga began an apprenticeship at Copenhagen's Noma, where he continued to expand his skill set, working strictly with ingredients indigenous to the region. Upon his return to San Francisco, Madriaga rejoined Bacchus Management Group's family of restaurants as a line cook at Spruce, and in April 2012, he was promoted to chef de cuisine. "I always knew I would come back and one day run a kitchen for founding partner Tim Stannard and chef Sullivan. It was the feeling of leaving your family for a period of time and returning to show them what you have learned and how you have grown as an individual." Madriaga possesses a deep appreciation for seasonality and welcomes to the opportunity to utilize all of the Bay Area's wonderful farms and artisans.
Executive Chef
Olivier holds a Culinary Diploma in addition to a Masters Certificate in Hospitality Management, and began his career within an array of Michelin-star restaurants in Paris and the Caribbean. He worked closely with well-known talented chefs including Michel Rostang, Jean-Georges Vongerichten and Nicolas Le Bec.His first Senior Management role took him to Beirut at "Le 5 Restaurant" of Mathieu Pacaud (3* Michelin).He started his career with Starwood in 2005 in opening the Sheraton Pattaya in Thailand where his accomplishments led him to senior roles within the group and to international exposure.  He furthered his career with an assignment in Saudi Arabia, and spearheaded the opening of the Le Meridien Dahab Resort in Egypt in 2009 . For the past 3 years he has overseen all culinary operations at LUX Le Morne.
Trace, Jason Rea
Executive Chef
Chef Jason Rea brings nearly 15 years of experience in the food and beverage industry to his job as Executive Chef of W San Francisco, where he oversees W San Francisco's entire culinary operations and menus for its catering and banquet facilities, room service, UPSTAIRS and Living Room bars, and W Hotels' concept restaurant, TRACE.
His accomplished culinary background includes positions at high-profile restaurants in some of the country's most celebrated food and dining destinations, including New York City, Portland, Los Angeles and San Francisco. Most recently, Chef Jason worked as Executive Sous Chef of Mina Group's San Francisco urban wine bar and restaurant, RN74, and as Sous Chef of the Michelin-starred MICHAEL MINA San Francisco. Prior, he held stints at Water Grill in Los Angeles where he worked under acclaimed chef Michael Cimarusti, Bluehour in Portland, and Geoffrey Zakarian's Town in New York City, which The New York Times awarded a glowing three-star review. His first ever culinary position was at Ciudad in Los Angeles, where he learned the ropes from acclaimed chefs Susan Feniger and Mary Sue Milliken.
Chef Jason received classic French culinary training and excels at blending exquisite technique with modern cooking methods and artistic plating. He maintains close relationships with Bay Area farmers and purveyors, bringing TRACE and W San Francisco guests the highest quality and most seasonal ingredients available.
Executive Chef
Originally from Minsk, Dmitry Elperin attributes his passion for cooking to his early years, when he helped his mother prepare the family's meals using fresh vegetables from their garden. After working in restaurant kitchens in his teens and graduating from the prestigious Culinary Institute of America in Hyde Park, New York, Elperin began his career working at Red Sage in Washington, D.C. He moved to California four years later and has since worked in celebrated San Francisco restaurants with such talented chefs as Adrian Hoffman at One Market Restaurant, Daniel Humm at Campton Place, and Laurent Manrique at Aqua. His current position as executive chef at the Village Pub allows him to combine his innovative approach with his commitment to fresh, seasonal ingredients.
Executive Chef
A native to San Mateo, Chef Chris Aquino has a rooted history at Viognier. During his tenure at the California Culinary Academy, Chris apprenticed under Executive Chef Scott Giambastiani of Viognier in 2005. Chris advanced under the tutelage of several chefs, quickly attaining the sous chef position. In 2009, he departed Viognier to work for Chef Anna Bautista at Madera Restaurant in Menlo Park. In 2010, Chris was called back to Viognier by Chef Preston Dishman to help man the stoves as his chef de cuisine. Now as Executive Chef, Chris does not see the Peninsula as his only influence and experience with food. Given the benefit of having a father who worked for an airline and a mother who kept him out of trouble by keeping him in the kitchen, Chef Aquino was allowed to explore and experience other cultures and their cuisines. From travels to his parents' homeland in the Philippines, day trips with his father to have lunch in Chicago, and voyages to places such as New Orleans and Munich, Chef Aquino's culinary inspirations have been influenced by his travels. Chef Aquino's menu has been described as California ingredient driven with Southern sensibilities.